Napa Valley "after the fire" from my perspective.  As a travel consultant, it was important to understand if Napa was still on the map or had it burned to the ground.  After all, the media left me with the impression that my favorite vineyards and hotels were all affected in some way.  It did that to you too, right?  So,  there was no better way to really know the truth than to show up and drive the valley to see for myself.  And so I did!
Our route took us from Santa Rosa onto the Petrified Forest Road which empties into Northern Napa Valley and Calistoga.  As we approached the turn onto Highway 128 and the Napa Valley, I found myself getting a bit anxious not knowing what I was going to see.  But, there it was – the sign which read – "Welcome to this world famous wine growing region – NAPA VALLEY" – and just beyond our welcome were the vibrant fall colors of the vines – orange, reds, and yellows – the vines were there as they always are; and I was now confident that the cities of the valley that lie beyond – St. Helena, Yountville, Rutherford, and Napa were also just fine!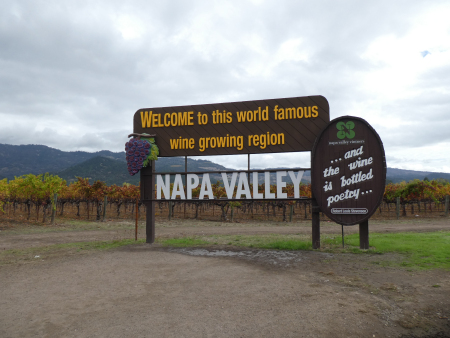 As we continued our drive south on Highway 29, the relief I experienced seeing the quaint and charming town of St. Helena was emotional.  Store windows all displaying "Thank you first responders" warmed my heart as now I realized, Napa Valley was saved!  Napa Valley is how I always have known it!  The shops, the restaurants, the wineries and the hotels.  It's all there and I was so relieved!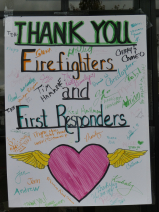 So where was the fire?  It was in the surrounding mountain areas where very few wineries were affected – not in the cities or in the vineyards!  However, there were homes lost, as well as a winery in the lower mountain areas.  But –  Do you believe in silver linings?  I do!  For the Napa Valley the unexpected silver lining is that the vineyards themselves turned out to be excellent firebreaks.   Nearly all wineries and homes survived because they were protected by the vineyards themselves! I had not heard this from the media reports nor did I see photos of survival!  Did you?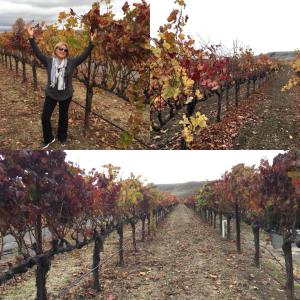 Now relaxed, it was time to participate in the iconic Napa Valley wine tasting!  A personal favorite winery, Black Stallion in Napa, greeted us with excitement and a special thank you for coming!  While sipping the delicious reds presented by our wine host, I asked him the big question,  "How has the fire impacted the wineries and tourism in the Napa Valley?"  We talked for quite some time, but the take-away was loud and clear.  The fire in the surrounding hills occurred during the time when the Napa Valley is typically filled with tourists during the harvest time; and sadly those tourists cancelled.  They could not arrive during the fire, of course, but then future bookings well into 2018 began to cancel as well.  So the question remains – How will Napa Valley recoup the millions of dollars lost during a time when so much is usually gained?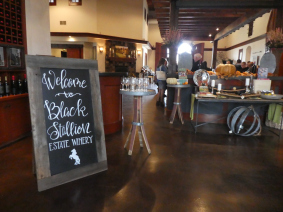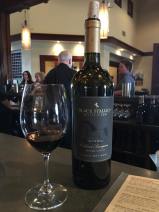 Being the optimistic person I am, I thought if I could just yell as loud as I could from a mountaintop, everyone would hear my reasons to come to Napa Valley NOW!  Then I thought, why not write this blog and send it out to the universe and give reasons why everyone should come to the Napa Valley NOW.  So here they are – the reasons to get here NOW – just in case you need them!  And, by the way, the fire did not affect any of these reasons to enjoy this iconic wine region.   Do not hesitate – it's all here waiting just for you!
1).  There is A LOT of wine in the Napa Valley – in fact, over 400 wineries and 600 if you include Sonoma!
2).  There are incredible restaurants – over 150 of them and 7 that are Michelin Star restaurants!  PLUS, picnics in vineyards!  And, if you act now, you can get into just about any of the best eateries in the valley!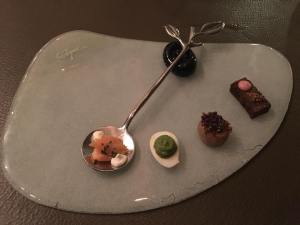 3).  Fabulous hotels and resorts each with its own personality and many have special promotions to entice you to book; including a free night with a 3-night minimum night stay!  That's a Napa bargain!  Check out the highly rated Carneros Inn and Spa where we spent an amazing night in a simple, very comfortable and luxurious romantic cottage with magnificent views over vineyards, indoor/outdoor shower, fireplace, complimentary bicycles, a hilltop adult only pool, a family pool, a very large workout facility, fabulous restaurants and that friendly Napa hospitality and service!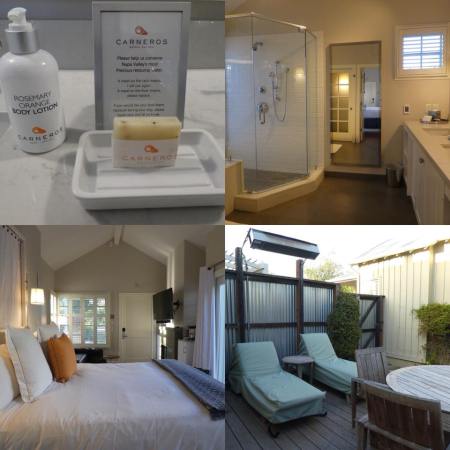 4).  Getting around the Napa Valley is easy.  Either hire a limo or take Uber! (Please don't drink and drive!)  Yes, Uber is in Napa Valley.  After our dinner at the Michelin Star La Toque, our Uber driver arrived within 2 minutes!
5).  There are cooking schools including the Culinary Institute of America's Greystone campus.
6).  There are the legendary hot springs in Calistoga famous for its mud baths.  Or how about a wine spa treatment as featured at many of the luxury hotels.
7).  Wine cave tastings – Yep! It's all here in Napa Valley!
8).  Shopping local products such as olive oil, soaps, lavender sachets and beautiful home décor stores!  All for your viewing or purchases!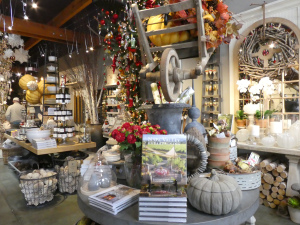 9).  Get educated and attend a class on beekeeping, wine blending, wine pairing or gardening – all in Napa Valley!
10).  Adventurous?  Why not drift above the Napa Valley vineyards in a hot-air balloon at sunrise?  Sounds amazing to me!
11).  For the art lovers, the art galleries will not disappoint you.  Or, for the music lovers there are also plenty of venues to attend a live performance.
12).  Romance!  Yes, Napa Valley is filled with many places for romantic moments.  Whether you are watching a beautiful sunset, picnicking in a vineyard, sipping on a favorite wine, eating a meal at an amazing restaurant, or indulging in a spa treatment together.  Napa Valley has something for everyone!
Thank you for reading!  Hopefully, I have enlightened you to book a getaway in Napa Valley – After the Fire!  All of Napa Valley's many hotel staff, restaurant servers, winery hosts, limo drivers, Uber drivers, spa operators, retailers and residents are all waiting for you and will be most grateful for your stay!  Cheers!  Gail