IMPORTANT: Please be aware that all Covid-19 entry requirements and forms mentioned below can change. You must check current requirements prior to your actual travel date. Thank you.
"I love to travel once I get there" but my love for Africa has never stopped me from going the distance to get there – even during a pandemic! Some thought I was crazy, however on January 30, 2021, I boarded Qatar Airways from LAX bound for Nairobi, Kenya! I had to see for myself how this pandemic was affecting a country I loved so much.
Today, one must be flexible, adaptable, understanding and very patient even before getting on a plane to any destination whether it is in the U.S. or travel to an international city. I had traveled in 2020 to Mexico; as well as spending a month in Rwanda and Tanzania in October. I was prepared for any changes to come my way simply because I had the determination to be "there"!
To start, it is my recommendation to make sure you are working with a reliable, knowledgeable, and trusted travel advisor who has walked the walk and can talk the talk honestly about travel during a pandemic and specifically to Africa. There are many requirements to understand.
Flexibility & Adaptability is necessary since airlines can change or cancel flights at any time; and restrictions into a country can change as well. In my case, two new travel requirements were introduced. One mandated by the U.S. to have an exit negative covid-19 PCR test within 72 hours of departure from Kenya; and the other was a new QR code needed to enter Kenya. These were in addition to having a negative PCR covid-19 test within 96 hours before departure to Kenya.
At check-in I was asked for my passport, E-Visa for Kenya, AND my negative PCR test as well. And, then again the same in Doha where I connected to my onward flight to Nairobi, Kenya.
I flew Qatar Airways business class (15 hours) to Doha. An incredible airline! Their QSuites are very comfortable for physical distancing, the service exceeds expectation, the protocols for sanitation on board are in place, masks must be worn unless eating/drinking, and the food is very good! All flight attendants were wearing full protective face wear (eye goggles and mask) and full-length paper gowns. All my international flights were less than 50% full in all sections.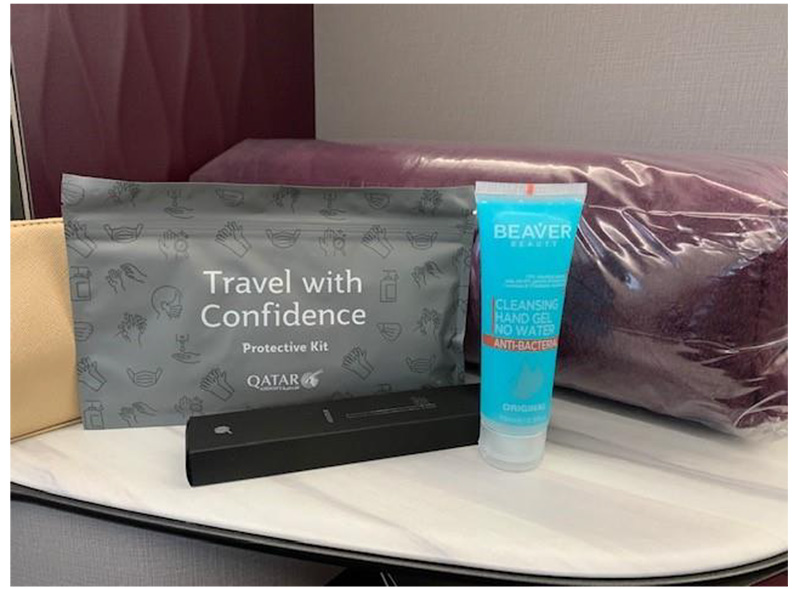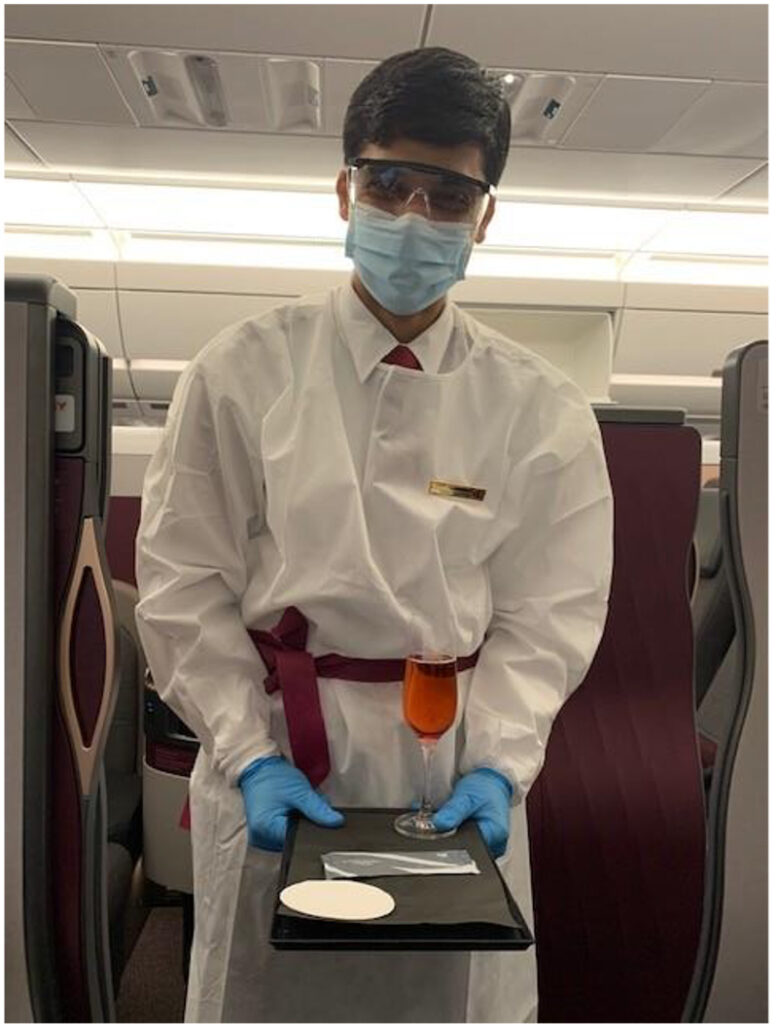 Note – currently, LAX, lounges are closed for business class passengers, however eateries were open to purchase food and drink in the Tom Bradley Terminal as were most shops as well.
My flight connected in Doha to Nairobi with a long layover. But the Qatar business class lounge is simply amazing making a layover a bonus to the trip! Doha airport had all shops, eateries, and most lounges open, other connecting cities to Kenya such as Frankfurt, Germany are currently closed. This may be important to you so be aware.
The flight to Nairobi was a quick 4 hours. Upon disembarking in Nairobi, I had a VIP arrival, which all my clients receive if available, and taken immediately to the person checking my QR code and PCR negative test certificate. Next, my temperature was taken, and the last step was passport control where my passport and visa were reviewed. My VIP escort stayed with me the entire time as well as a porter to assist with any luggage. My duffel bag was waiting for me at the baggage carousel, and then I was escorted to my driver just outside who took me to my hotel. Overall, my experience was excellent and very easy! All personnel in the airport are required to wear masks and I felt very safe. The key is having all your documentation in order – photos of all documents on your mobile device as well as hard paper copies. Be organized!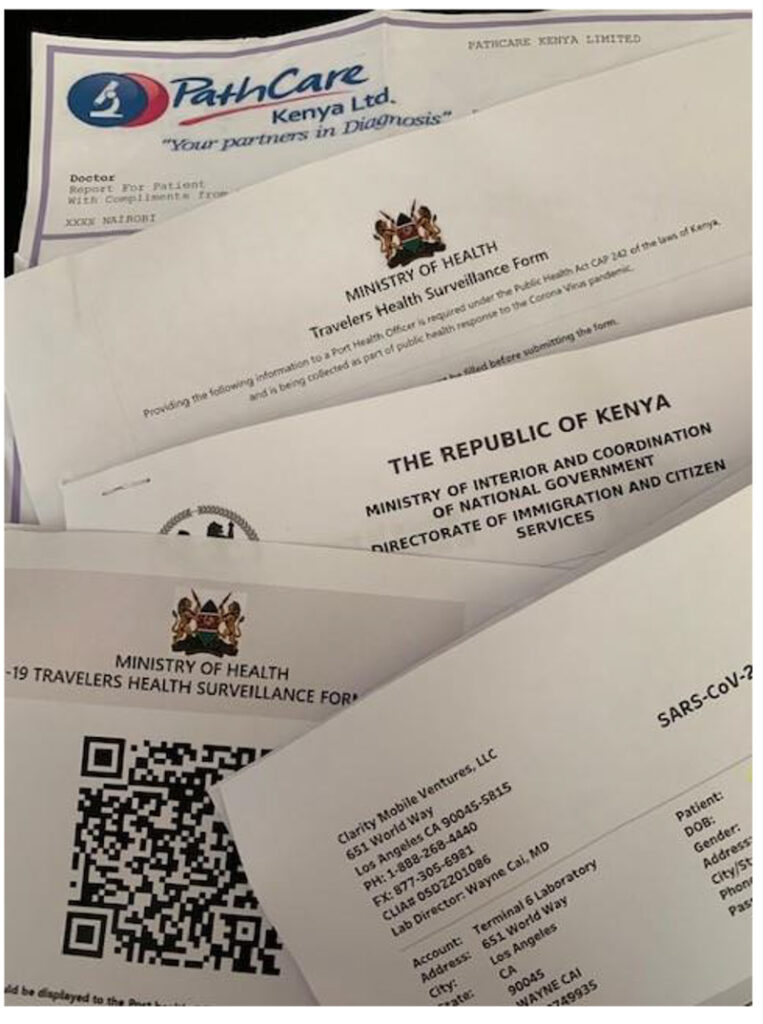 I would like to add that prior to departure from the U.S., it is very important to have the proper insurance. You need to be fully covered and your travel advisor must work with you on the details. Also, a few days before departure, be sure to apply for your Kenya E-Visa, which will include your Health Surveillance Form submission as well. Kenya no longer accepts "on arrival" visas so this must be done online! http://evisa.go.ke/evisa.html
Your document pre-departure checklist (as of 9/19/2021):
– Valid Passport
– E-Visa
– Health Surveillance Form & PCR Code
– Insurance
– Negative PCR Covid-19 Test Certificate taken 96 hours within arrival.
JAMBO & KARIBU! (Hello & Welcome in Swahili) – Now in Kenya and it feels great to be back to a country I love so much! The people, the wildlife, and the great outdoors!
Lodging and camps in Kenya vary tremendously and choosing one will depend on your interests, time of year you travel, how many days on safari, your comfort style, and your budget. A well-traveled safari advisor will know your options after asking many questions. Therefore, an in-depth consultation is advised before making any decisions.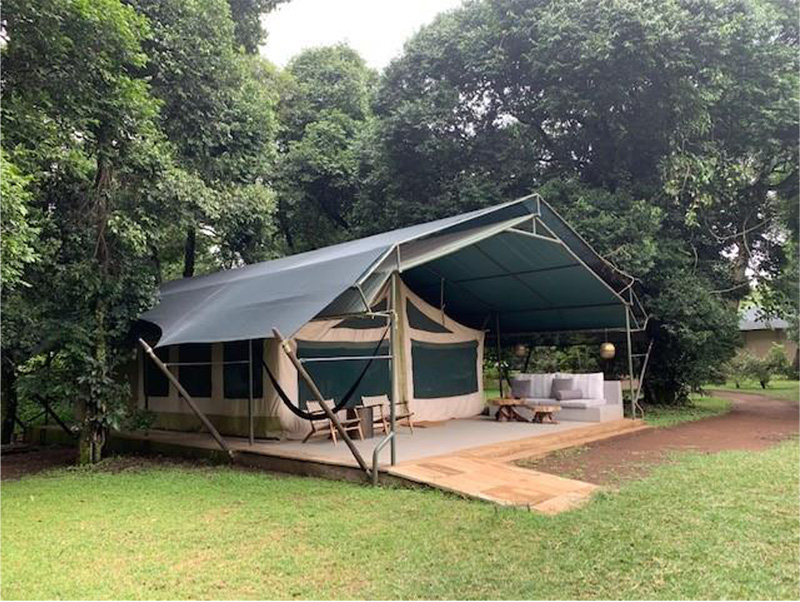 Bush flights between locations in Kenya can be shared/scheduled or private charter flights. Booking a private charter flight is the best way to travel if you have the budget to do so. It is affordable if you have a group traveling together. Note that scheduled flights typically make quick stops along the way to pick-up others before your destination whereby a charter will be non-stop. All pilots wear face masks, and all passengers are required to wear the blue surgical masks on flights. Luggage is sanitized before loaded into the belly of the plane and hand sanitizer is also offered before boarding. Vehicle transfer drivers all wear masks as well.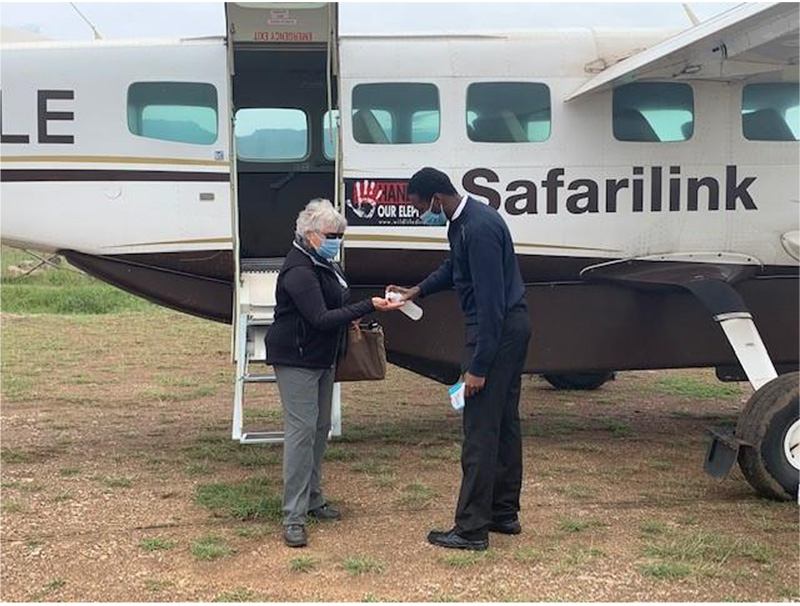 On Safari for your review:
– All staff wear face masks in public areas of the camp.
– Safari vehicles are either private or have no more than 4 guests per vehicle. This will depend on the camp. If you are a family, everyone will be together in the same vehicle.
– Tables are all separated with physical distancing at mealtimes unless you are a family traveling together.
– Most camps no longer have buffets and meals are a la carte. Some still offer continental buffets for morning breakfasts along with a la carte as well.
– Each camp room or tent is sanitized between each guest occupancy.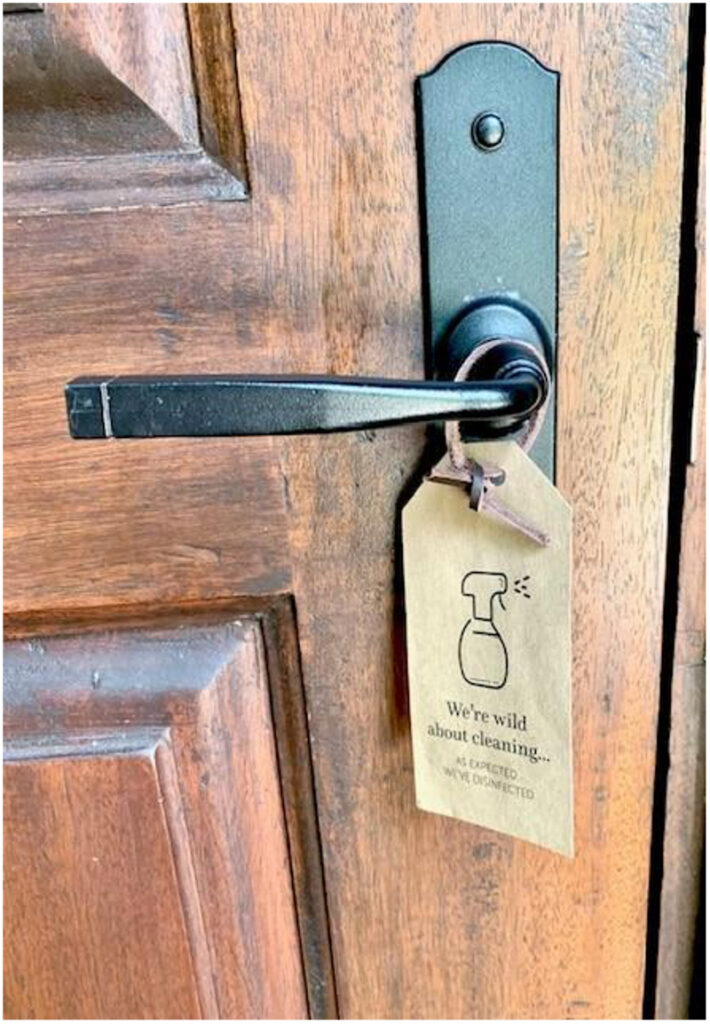 – Inside each room or tent an amenity kit is provided with various items including a mask, hand sanitizer, etc. Each camp differs slightly.
– Hand sanitizer stations are located throughout the camp and on vehicles.
– Some cultural/village visits are available; however, masks must be worn.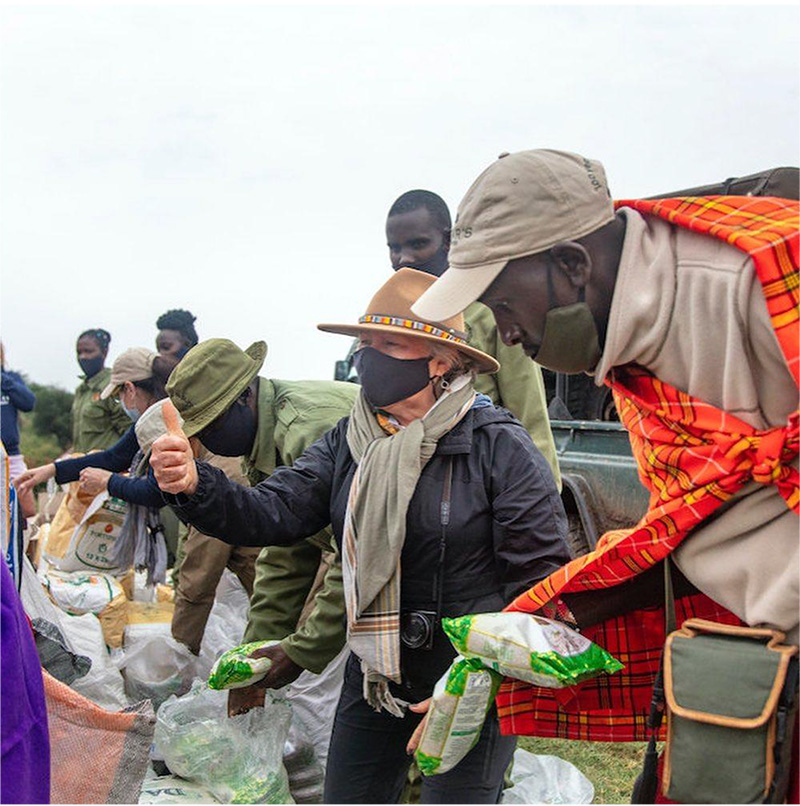 – Massage is still available at camps where offered and always a good idea!
– Game drives are super amazing too! At times, my vehicle was the only one in sight. On the Masai Mara typically there is an excessive number of vehicles viewing animals. It was a rare treat to be the only vehicle witnessing lions climbing a tree or cheetahs on the hunt or a leopard marking his territory among many other animals.
– Other activities still available based on the camp activities were biking, hiking, anti-poaching dog demonstrations, swimming, walking safaris, animal sanctuary visits, beading demonstrations, Masai dance, evening campfires, sundowners, horseback riding, camel riding, and so much more!!!!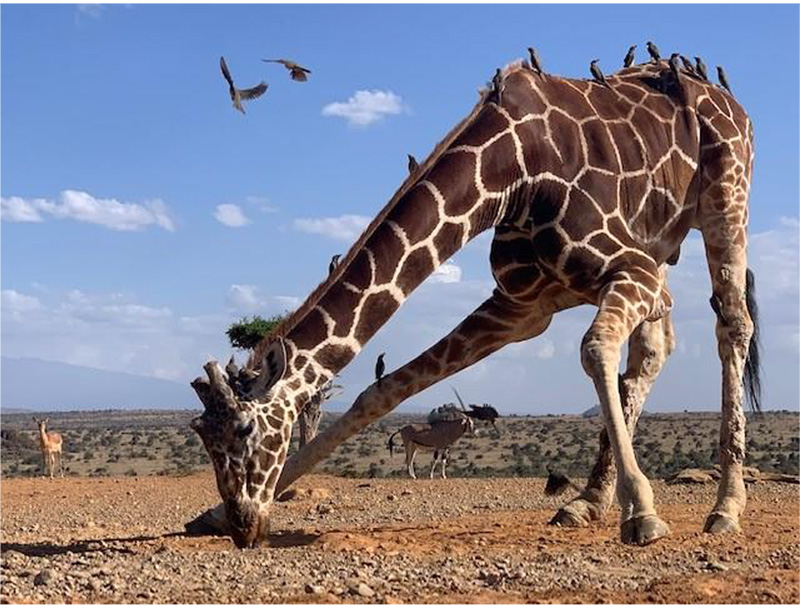 Departure from Kenya, although sad to leave, departure was again seamless. Due to some new protocols I had to follow, I made sure I had enough time to see them through. Note that there can be a long line to enter the Nairobi Airport as all documents, etc. are checked prior to entrance.
– The U.S. now requires a negative Covid-19 PCR test taken within 72 hours of departure. In my case, a doctor from Nairobi was flown to my camp, administered, and then taken back to a Nairobi certified lab for testing. I had my results back within 24 hours via email. The camp then printed the certificate for me to present at check-in at the Nairobi Airport. Note there is
an additional charge for the service and test. If the test is done in Nairobi the cost would have been less, but in my case, it was not an option. This all will be arranged for you through your safari advisor.
– Kenya Requires Digitally Verified COVID-19 Test To be entered onto the Trusted Traveler platform and then a QR code is received which must be presented upon check-in at Nairobi Airport. Currently this platform is still being perfected, but I did have to show the QR code on my phone. Working with your safari advisor is important for updates regarding this procedure.
– A mask must be always worn at the Nairobi Airport.
– Temperature is taken prior to entering the Nairobi Airport.
– Lounges for business class passengers were open.
– Some shops, duty-free and eateries are open.
Arrival At Home will differ between countries. Since I returned home to the U.S., I had only one requirement and that was the negative Covid-19 PCR test certificate. And, I only had to show it at departure in Kenya and not at LAX. In fact, the entry into the U.S. was simple. I disembarked the plane and headed to Passport Control. I use Global Entry which took all of 2 seconds to get my printed OK to enter. Handed it to the officer and then proceed to baggage claim. Since the flight was more than half empty, it took very little time to collect my luggage and off I went to meet my husband at curbside. From disembarking the plane to the curb, it took less than than 30 minutes!
Countries and even states require different quarantine requirements. Be sure to check your requirement for your country or state prior to leaving home.
Now home I feel great and Covid-19 free! I had another epic safari adventure in Africa. Traveling during a pandemic may not be for everyone. But it IS for those who have the intense desire to travel and can be flexible, adaptable, understanding and have patience! You will be so happy you made the decision to go on safari!
Asante sana for reading! Feel free to contact me for your next great adventure or safari. You can also follow me on Facebook for more photos and stories about my recent trips. https://www.facebook.com/gailwoloz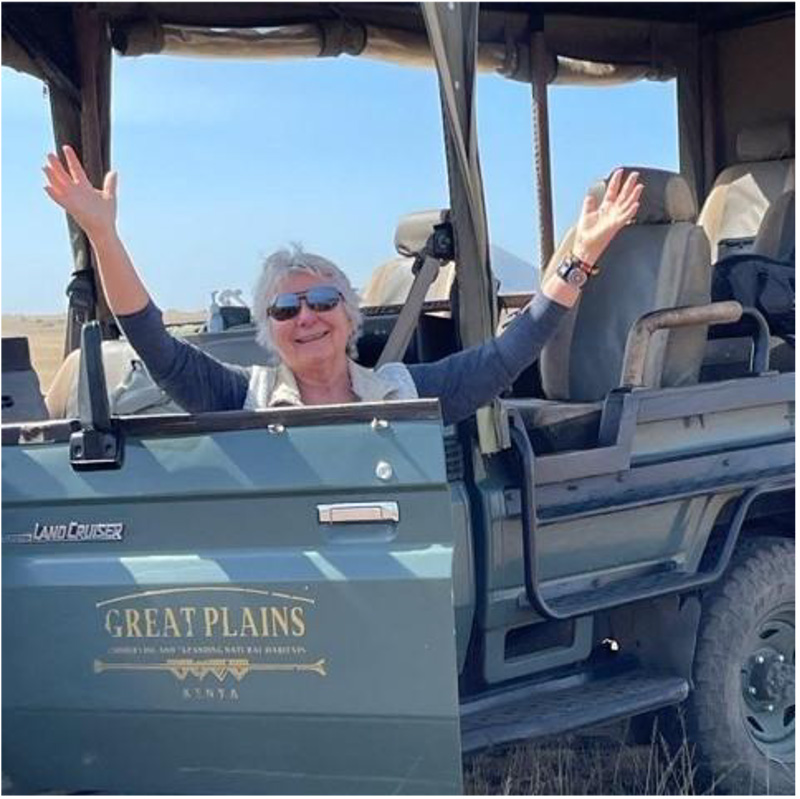 Editor's Note: Gail Woloz is the Managing Director of "Gail's Travel & Safaris" and an independent contractor for TravelStore. Her husband, Jeff Woloz, works alongside her in Manhattan Beach, CA. They have been booking safaris for nearly 20 years and Gail has been in the travel business since 1977. She can be reached at [email protected] or www.gailstravel.com