Yes, Sri Lanka!  Captivated, awed and in love with Sri Lanka "The land of serendipity and happy surprises"!
Excited and curious to what lies ahead, I landed in Colombo, Sri Lanka with great expectations after reading so much in the travel news about this hot destination.  A small island off the southernmost tip of India, I found myself immersed in a tropical wonderland full of colorful Hindu, Buddhist, Muslim and Christian cultures all living peacefully together; brilliant shades of green among the mountainside tea plantations; foaming white surf on the white sand beaches of the wild coast; and the jungle paradise of national parks filled with mammals including my personal favorite – elephants!
Arriving a day earlier than our small group of other travel advisers and hosted by Ventours, Respldendent Ceylon and Rebecca Recommends, I ventured by tuk-tuk into the area of Pettah which was filled with open air markets and small stores overflowing with everything and anything!  Here I had the opportunity to do what I love most about traveling – mingling with the locals.  My personal game and challenge is to turn curious looks into smiles. Afterall, there I was – white skin, light eyes and blonde hair!  It's a little difficult to just "fit in", but I always try, and I do succeed and make friends quickly.
My hotel for the next few nights in Colombo was the new and beautiful 5-star Shangri-la by the sea.  I enjoyed the excellent service and high-end amenities throughout the hotel.  The room was large, comfortable and had a gorgeous view.
From the 16th century, this small island became known as Ceilao by the Portuguese and then became known as Ceylon from the British.  Then in 1948, after nearly 150 years of British rule, Sri Lanka became an independent country.  In the recent past, Sri Lanka witnessed a turbulent chapter with a civil war that ended in just 2009.  Now recovered, there is a rapid boom in tourism – and lucky for us.  The warm hospitality of the Sri Lankan people, the vivid flavor combinations of its cuisine, the tropical fruits, and island-grown spices and teas, the beaches and the wildlife make this island the perfect holiday destination for an exciting cultural adventure.
After a brief tour through Colombo visiting historical sights, we visited a couple of boutique hotels.  I particularly liked the Uga Residence, a grand Victorian townhouse, now an 11-suite luxury hotel centrally located.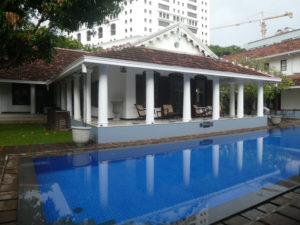 Colombo was interesting, but I was really looking forward to seeing the countryside, the mountains, jungles and the beaches.  So, off we went first to the "Cultural Zone" to witness the World Heritage Site of Polonnaruwa, a medieval city which rose to fame as a capital between the 10th and 12th century – oh my!  Seriously, I was overwhelmed by the history and beauty of this archaeological wonder.  It so reminded me of my many visits to Angor Wat in Cambodia.  To wander about among the ancient walls of this city was simply mind boggling; and the stories told by our amazing guide Walter were intriguing.
While keeping a lookout for Elephants along side the road, we came upon a Sri Lankan traffic jam.  There coming down the two-lane road was a truck holding a large Buddha followed by some sort of parade behind it.  Of course, I immediately wanted to jump out of our mini-bus, and thankfully our guide agreed.  The Buddha was new and being transported to a local temple nearby followed by villagers. One villager had put himself into a trance (no drugs) but rather a feeling of strong mental and physical energy transmitted spiritually to the beat of drums.  It was an OMG moment!
On to a local farm where we had a feast of at least 20 dishes! So many spices, so many curries, so many dishes that came out from the kitchen one after another and so delicious!!!  I had no idea at times what I was eating, but it sure tasted great!  Even the freshly squeezed pineapple juice was a treat!  Fortunately, the desserts were not to my liking – a little too sweet for my taste, but they were interesting never the less.
Eager now to check-in to our hotel for the next 2-nights and enjoy an evening BBQ. The Water Garden Sigiriya Resort, where luxury meets nature surrounded by lakes & water streams did not disappoint.  All one-bedroom villas with private pools and perfectly fitted with all comforts.  And from reception lies ahead the giant rock fortress Sigiriya.
Wait…..!!!  How many steps to climb Sigiriya?  Me?  Now that I am "older", but still part of the millennial's of travel advisers, I find this need to keep up.  So, as I tell my clients, I simply tell myself – go and just do as much as you can!  So up I went to the very top of Sigiriya and I made it!  OK – it was 1200+ steps of stone including a narrow spiral staircase and ledges, but worth every moment!  Sigiriya is a World Heritage Site and was originally a hermitage for Buddhist monks until it became a bastion and palace in the sky – it was a royal city and the 1500 year old frescoes alone make the trek worthwhile.
Another visit to a unique Eco Resort Vil Uyana.  This one is not for everyone, but I sure did love all the nature activities done from here including nocturnal tours of wildlife.  The rooms are very quirky and fun.  Tip:  Stay at Water Garden Sigiriya and have tours arranged from Vil Uyana.
In this area of the cultural zone there are many sights to visit.  Next up was Dambulla and another climb, but fortunately no steps this time – just a big hill in the heat of the day.  But seeing the richly painted cave temples that are over 2000 years old and the recumbent Buddha carved out of the living rock was captivating to say the least!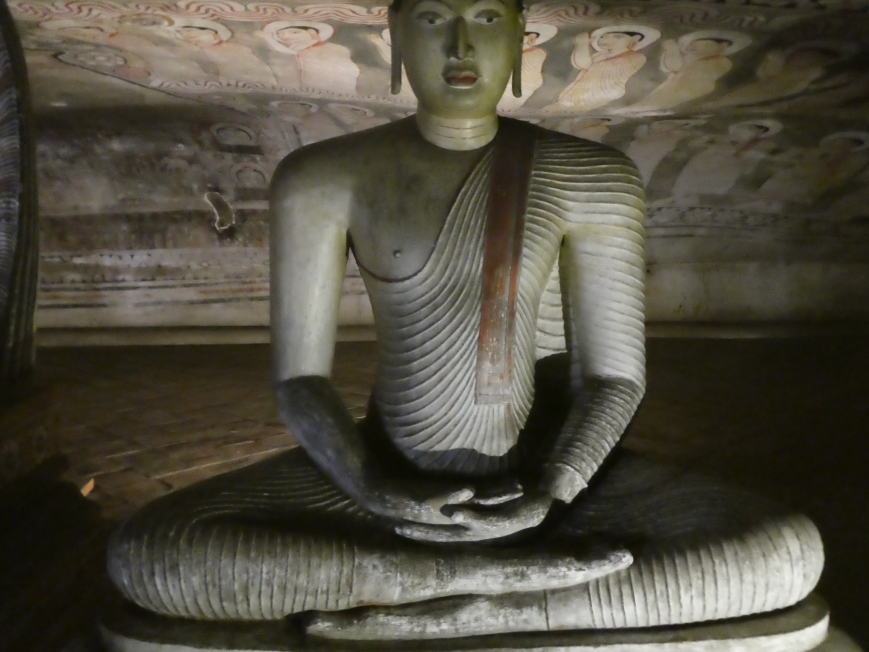 It's hard to forget the experience of taking the train through the Sri Lankan tea country.  Noted as one of the most scenic train journeys in the world, the train ascends along winding tracks into the home of the famed Ceylon Tea.  A carpet of velvety green tea plantations blankets the hills interspersed with gushing streams and tumbling waterfalls.
Through my world travels I have participated in tea tastings, but nothing like the one experienced by the resident tea planter at Dunkeld Tea.  We were guided through many different types of teas to find the right one to fit each of our tastes.  I especially liked the White Tea and of course purchased some to bring home.  The Dunkeld Tea Factory was a fascinating look at tea making from plucking to converting with century old machinery and processing.
Included in our Sri Lankan journey were 2 nights at the world's first tea bungalow resort – Ceylon Tea Trails operated by Resplendent Ceylon and members of Relais & Chateaux. Five historical colonial era bungalows varying from 4 to 6 rooms and suites each are unique and located apart from each other. Planning a trek between each bungalow and staying a night or two at each makes for an ideal stay.  The views are sensational, there are activities galore such as hiking, kayaking, river rafting, golfing, tea tours, picnics, etc.  All meals and drinks are included!  Highly recommend!
A walk among the tea plantations is a maze of pathways that snake between tea gardens, patches of forest and inhabited wildlife (leopards!).  It's always great fun to witness the tea pickers in action too.
It's time now to move on to the Wild Coast Tented Lodge and getting there was exciting and fun via a 45 minutes seaplane ride!  Flying over the tea plantations was extraordinary and will forever be implanted in my memory.
Wild Coast Tented Lodge, another Resplendent Ceylon property, sits on a secluded beach on the edge of Yala National Park where leopards and elephants roam among other wildlife.  Having traveled throughout Africa extensively, I was excited to see how my Sri Lankan safari would differ.  The tents were luxurious, air-conditioned and fitted with all the amenities one could use. Both a copper tub and a shower along with double sinks and the most comfortable bed brought a big smile to my face.
The food here was some of my favorite.  We were welcomed with a cooking demonstration for lunch under the trees that lined the beachfront location.  Fortunately, I love curry and vegetables and there was a lot of both in many different types of dishes.  The spread of food was simply divine!
There is good reason why this is called "Wild Coast" and it's the perfect place for a photographer!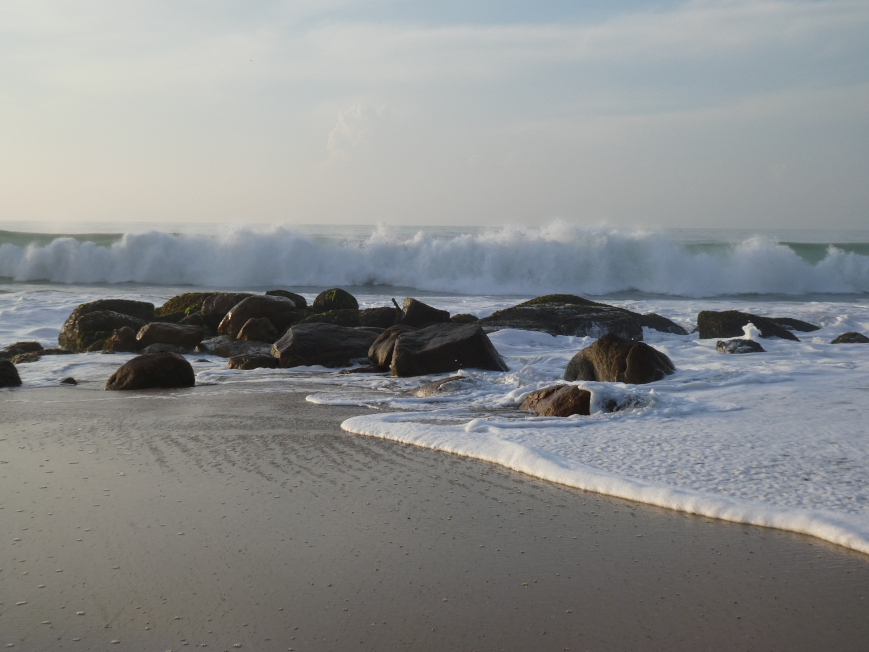 Yala National Park is the most visited and second largest national park in Sri Lanka.  The park is important for the conservation of Sri Lankan elephants, leopards and aquatic birds.  On the day we ventured to Yala it had been raining and the leopards and elephants hid in the bush.  Can't say I blame them, but it was an interesting adventure anyway.  We did see many types of birds – home to 215 types. We also got a glimpse of the Toque macaque monkey, wild boar, jackal, the painted stork, mongoose, water buffalo, monitor lizards, etc.  It was a memorable day doing what I love – being on safari!  We were also surprised with a bush high tea and it was scrumptious!
As my Sri Lankan adventure comes to a close, our last 2 nights were spent at the super luxurious Resplendent's Ceylon Cape Weligama.  A 3 ½ hour drive from the Wild Coast and we arrived at the resort perched on a hilltop and offering 270 degree panoramic views of the Indian Ocean.  Individual villas were sprawled throughout the grounds which made the perfect ending to a dreamlike adventure.
Here at Weligama Resort you will find many activities making this a perfect final stop before returning home.
Sri Lanka is filled with many authentic experiences and never to be forgotten was the Cape Cinnamon Experience at Top House.  A beautiful working cinnamon estate which produces true Ceylon Cinnamon.  I had no idea that there is "cinnamon" and then there is "Sri Lankan Cinnamon" and the difference is amazing.  I also had no idea how cinnamon grew, how it was harvested or how it became the fine dust that I know and love.  Not only did we witness the preparation, but also the distillery where they extracted cinnamon oil using age-old techniques altered with modern technology! Wow!
Following our cinnamon experience, we drove only 30 minutes to the ancient trading post of Galle and where cruise ships are often anchored.  Galle is an award-winning World Heritage fortified township and a port for Chinese, Persian, Arab and Indian traders.  The Portuguese arrived in the 1500's and built a settlement with a fort of palm trees and mud.  Today narrow streets are lined with old Dutch houses and pillared verandas.  A true maritime citadel where shopping for all thing's Sri Lankan in small boutique lined streets was a joy.
As my journey ended, I can only dream now about my return.  In the next couple of years, Sri Lanka will open more areas to luxury tourism and a reason to return and explore more!
Thank you Rebecca Slater of Rebecca Recommends for inviting me on this amazing journey.  And to Ventours and Resplendent Ceylon, thank you for hosting us through the Sri Lankan triangle.  It was an adventure filled with perfectly orchestrated experiences, and surprises, I can now share and plan for my clients.  And to our amazing guide Walter, who was a walking encyclopedia and allowed us "40 winks" between stops – thank you!
Additional Notes:
Airline:  I chose Cathay Pacific from LAX (14 hours) with a connection in Hong Kong to Colombo, Sri Lanka (5 hours).  Business Class was comfortable with attentive service.
Travel Documents:  Passport & Visa required for those from the U.S.
Weather: A tropical climate with wet and dry zones, Sri Lanka can be traveled year-round depending on your interests.  Please inquire.
Health:  Eating was a great pleasure in Sri Lanka.  At the time of this writing, there were no special immunizations needed.   Bottled water was plentiful everywhere.  And, I never got sick for a moment.  I found the country to be very clean!
Best Shopping:  For those lucky few, I brought back some treasures from Galle – the perfect shopping area.  Note that Sri Lanka is known for its spices, tea, textiles, wood work and gems.
Thrills:  Sri Lanka is filled with diversity and eco-friendly adventures such as hiking, trekking, biking, wildlife safari, birding, canoeing, surfing, river rafting, golfing, mountain climbing, wind-surfing, water-skiing, surfing, sailing, scuba-diving (including wreck-diving), and snorkeling.
Ayurveda & Spas:  For thousands of years, the most popular method used to restore and rejuvenate tired bodies and weary souls has been Ayurveda – the oldest and most holistic medical system available in the world and Sri Lanka has been a center of spiritual and physical healing for 2,000 years. Sri Lanka now has several spas, mainly on the west coast, which not only provide Ayurveda but also other Eastern and Western therapies, such as, hydrotherapy, herbal baths, reflexology and beauty treatments.
Food:  Known also as the Spice Island, Sri Lanka spices include cinnamon, pepper, cloves, and cardamoms. The cultivation of many types of rice, spices, vegetables and fruits, coupled with past foreign influences, ensures that Sri Lanka enjoys a varied and select cuisine. As a staple, rice is consumed with an assortment of colorful curries that range in "heat".
Culture, Wildlife, Ancient History and Fun in the Sun – All in Sri Lanka!