I did it!  I traveled from LAX to San Jose del Cabo, Mexico during COVID-19 on July 21, 2020!  I took the calculated risk, stepped on board a plane, and took off!  So far, I'm alive and COVID-19 free! Note that there is a travel ban to visit Mexico, but it is for land crossings only.  Air travel is currently permitted for U. S. citizens with NO quarantines.
As a travel advisor, I travel a lot so I can experience as much as I can to share with you.  The more I travel, the more I can advise about our world and where to travel when it is safe to do so.  Cabo has been on my list to re-visit since so many new resorts have recently popped up.  Now was the perfect time with all safety and cleanliness protocols in place for me to go.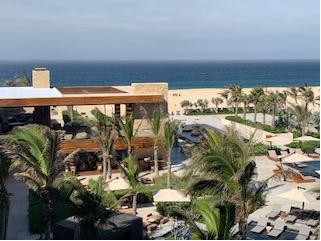 I proceeded to make my appointments with each resort and sales team I wanted to visit.
I visited 14 resorts and/or villas and 4 that I would be staying at for a night or two.  Each resort differs from the other in size, number of rooms, amenities, location, restaurants, and service level and will appeal to a variety of different traveler interests and budget.  However, the one thing they ALL had in common was their mindfulness to the new laws and protocols of cleanliness and safety due to COVID-19.  I would like share some of my experience with you.
The resorts I visited were – the brand NEW Four Seasons Resort Los Cabos at Costa Palmas™ on the Sea of Cortez (East Cape); Viceroy Los Cabos; Zadun, a Ritz-Carlton Reserve; Soloz Los Cabos; Esperanza Cabo San Lucas; Nobu Hotel Los Cabos; Hotel San Cristobal in Todos Santos; The Cape, A Thompsons Hotel; Chileno Bay Resort & Residences, La Datcha Villa, Garza Blanca Resort & Spa Los Cabos, Gran Velas Los Cabos; Montage Los Cabos; and Las Ventanas al Paraiso, a Rosewood Resort.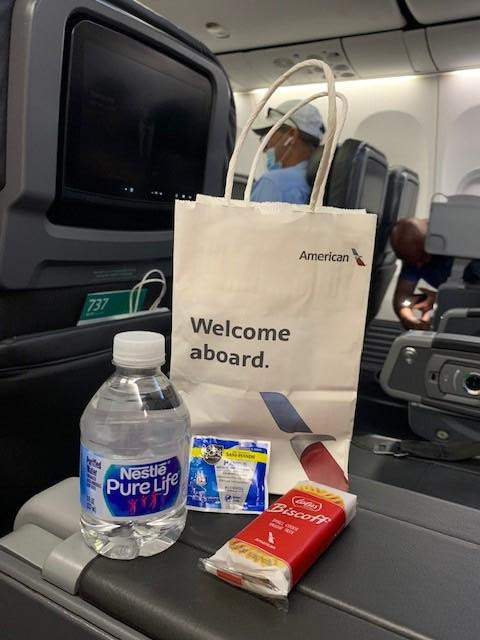 To begin, I flew American Airlines in First Class on the outbound and economy on the return.  The flight was full in both directions.  Upon boarding I was handed a small white bag which contained a small bottle of water, cookies, and a sanitizer wipe. During the flight it was announced by the flight attendant and the captain several times that it is mandatory that everyone wear their face mask unless eating or drinking.  98% of the passengers abided by this rule.  During flight, in first class, I was given a snack box of fruit/cheese/crackers all wrapped carefully.
The airport experience, both LAX and San Jose, Mexico was excellent and so impressive.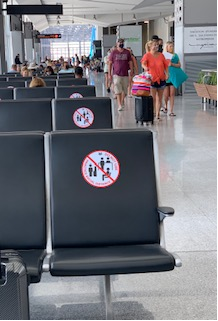 All safety precautions were in place with social distancing signage, barriers at check-in, and hand sanitizer stations offered everywhere.  
Masks were worn by all airline employees as well.
Upon arrival at the San Jose Airport, again social distancing was in place and handled very seriously. Going through passport control there were large decals placed on the floor for distancing while waiting to be called forward. The decals were also at the baggage claim area while waiting for luggage.
One baggage handler took each piece of luggage from the carousel and lined it up.  Easy!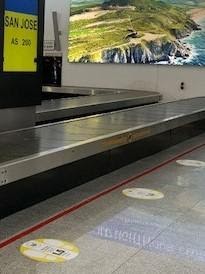 Exiting the airport, once getting through all the taxi drivers offering rides, our Classic Vacations driver was waiting with signage welcoming us, hand sanitizer and cold water in hand.  The driver wore a mask and gloves and besides the vehicle being spotless, it had a plexiglass shield between the driver and rear seat.
In Los Cabos a "Clean Point" quality certification from the Mexican government was given before a hotel could open assuring a clean, hygienic property.  Upon arrival at all hotels whether for check-in or a site inspection, our temperature was taken.  Masks were worn by ALL hotel employees; and we were explained about the cut-back of some of the services like restaurants and spa facilities due to the limited occupancy and health and safety precautions.  
Every hotel I visited had a very strict protocol in place and each differed slig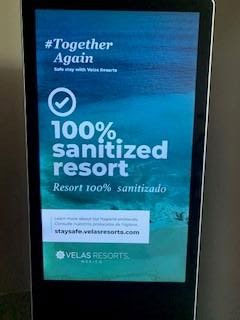 htly from the other. However, each hotel was limited to a maximum 35% occupancy rate and believe it or not, each resort visited had nearly reached its maximum.  Those traveling were mostly Californians, Texans, and Mexico nationals.  I was amazed at how many were traveling and enjoying Los Cabos!  
At Las Ventanas al Paraiso, for instance, after I checked out, no one would be checked into my room for 72 hours. It is sterilized from top to bottom and sealed with a ribbon across the door until the next guest. Other resorts may be 24 or 48 hours until the next guest is occupied in the same room after sterilization.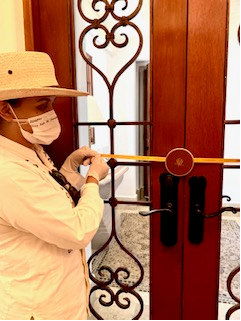 In the restaurants, tables were not set until the guest arrived at the table and menus are all downloaded onto your mobile device.  No more paper menus – a thing of the past!  In fact, even the spa menus and room information normally in a binder, is all downloaded to your mobile device.  
Tables in restaurants are spread out just like here in the states for social distancing.  Spas had a limited menu.  Some resorts mandated that both the guest and masseuse wear a mask; others it was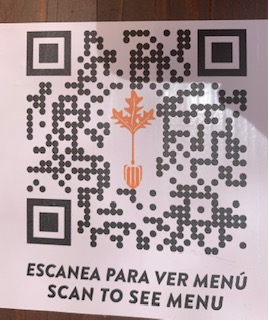 a choice whether the guest wore a mask.  
Some resorts are choosing to shut down their jacuzzi, steam room and saunas, while others have not.  Personally, I used the spa at Las Ventanas and while the locker room, and wet rooms were shut, I did have a fabulous massage.
All employees at all hotels have their temperature taken upon arriving at work and asked health questions.  And, at some hotel's employees are required to wash their hands every 20 minutes.  
Upon entering most hotels there was a mat to be
stepped on that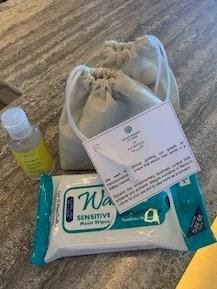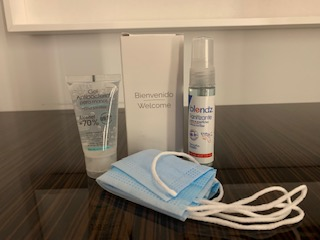 had disinfectant.
At check-in there is a shield betweenthe guest and the front desk personnel. Pens are sanitized between use after registration. Room amenities always included a kit with face masks, hand sanitizer and even gloves if you preferred to wear them at some resorts.  And, if you preferred not to have turn-down service or housekeeping service daily; it was an option.  All magazines have been removed from the room as well since they are too difficult to keep sanitized.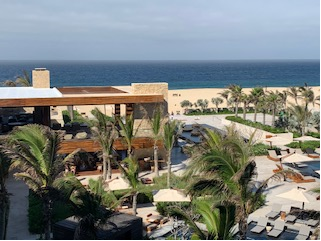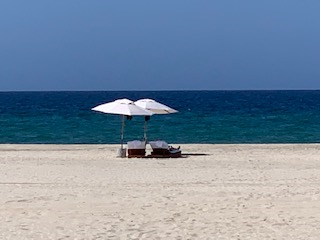 Although each resort had slightly different protocols in place, all of them had my safety in mind.  I was very impressed!  In all, I felt very safe; except in a couple of instances when young adults congregated in pools or bars, so I easily avoided these areas.  The beach was always a good option with lounge chairs and umbrellas spread out.
At every hotel I visited, the hotel staff went above and beyond to be helpful and friendly.  
Not because I was a travel advisor, but truly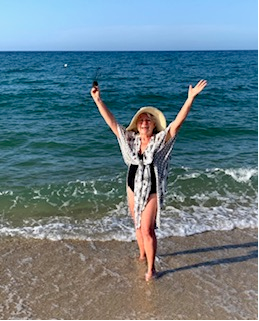 because they were thankful I was there to support them.  And it brought me so much pleasure to offer gratuities for the fabulous service I was provided by everyone!  Afterall, the hospitality and travel industry has been one of the most severely affected during this pandemic worldwide – including travel advisors!
I returned home from Los Cabos on July 27th; and by August 9th (2 weeks after my return), I am confident I will have proven I can travel safely without contracting COVID19.  "Stay tuned".  In the meantime, I hope to plan another international trip as soon as borders open.
If you have any questions about a particular resort, please feel free to reach out to me at [email protected] or 310-545-3085.  When you are ready to travel and when it is safe to do so – I am here for you!  Stay safe!  Stay healthy!  Travel well!